An excellent article about just a FEW of the shortcomings of the Obama Care fiasco.  We started using Liberty-Healthshare and are thrilled.  It's not insurance but a health sharing program that is MUCH cheaper and handles all our needs.
Read the article from Investors Business Daily…
ObamaCare Suffers Three Major Blows in One Week
ObamaCare rates will skyrocket next year, according to its former chief. Enrollment is tumbling this year. And a big insurer is quitting most exchanges. That's what we learned in just the past few days.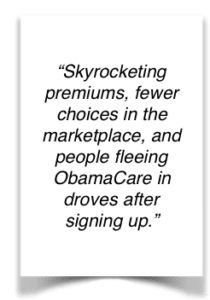 Marilyn Tavenner, CEO of America's Health Insurance Plans, revealed that she expects ObamaCare premium hikes "to be higher than we saw previous years," including last year, which saw double-digit rate increases across the country.

Tavenner, for those who don't know, was head of the Centers for Medicare and Medicaid Services until early 2015, which means she helped bring ObamaCare to life. In November 2014, she was boasting how "the Affordable Care Act is working to improve competition and choice among marketplace plans."
Now that she's jumped to the other side of the fence, she's discovered the dark side of the health reform monster she helped unleash.
Why will 2017 rates spike even higher?  Read More…